Press Release
UNISONO – Sensor system with AI-driven vocal biomarkers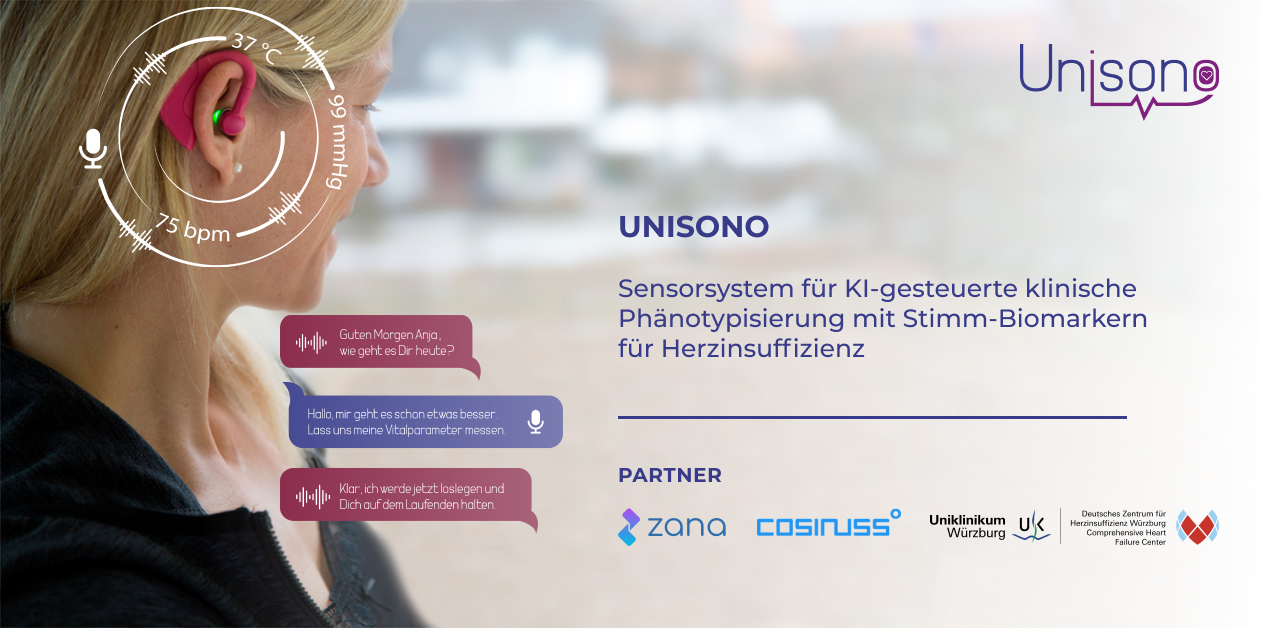 Launch of innovation project UNISONO for novel sensor system with AI-driven biomarkers for patients with heart failure.
Sept. 13th, 2022- The start of the innovation project "UNISONO: Sensor system for AI-driven clinical phenotyping with voice biomarkers for heart failure" was announced today by Zana Technologies GmbH, a German-based provider of Conversation and Voice AI technology for healthcare, together with Cosinuss° GmbH, a certified medical technology company specialized in mobile real-time measurement of vital parameters, and the Comprehensive Heart Failure Center (CHFC) at the University Hospital Würzburg.
UNISONO aims to develop a novel system combining an ear-worn sensor with speech recognition. In addition to the continuous measurement of vital parameters, the sensor will be equipped with a speech assistant that enables voice-guided communication. The collected data will be utilized to derive novel vocal biomarkers for AI-driven clinical phenotyping of patients with chronic heart failure, a condition that is affecting more than 3 million people in Germany alone.
In a very competitive selection, UNISONO made it into the top 8% of projects funded by the German Federal Ministry of Education and Research as part of its program "KMU-innovativ (program for innovative SMEs) in "Interactive technologies for health and quality of life". The 3-year project started on August 1st, 2022, and a first joint meeting was held involving all partners and the project executing agency VDI/VDE Innovation + Technology GmbH.
Novelty of UNISONO
The innovation of UNISONO consists in leveraging Zana's existing AI platform with novel vocal biomarkers technology through the clinical expertise of the CHFC, while extending Cosinuss° in-ear sensor for speech interaction. Heart failure is characterized by fluid overload and increased intracardiac filling pressures, hence edema in the vocal folds and lungs might affect the patient's voice. As such, acoustic measures of voice dysfunction and speech characteristics may be early indicators of incipient decompensation or changes in the patient's health status.
Previous approaches have been used to collect voice-based information in isolation for individual moods, states of mind and health, to associate voice alterations with vital signs, or to deploy voice-driven systems to complete patient questionnaires. "With UNISONO, we are investigating how speech and vital data can be combined to such an extent and how the data quality can be improved by an intelligent assistant in order to use it as a health predictor in heart failure.", states Dr. Julia Hoxha, CEO of Zana and coordinating partner. She adds: "In doing so, UNISONO brings AI-powered collection of real-world data to core healthcare and clinical research."
To simultaneously enable voice interaction and measure vital signs (such as body temperature, heart rate, oxygen saturation and respiration rate), the hardware of the patented ear sensor from Cosinuss° will be extended to include microphone and loudspeaker. "This technology enables us to continuously monitor the patient's vital signs and voice in real time over several weeks without complex cabling, and use it to develop a large database for the development of a voice biomarker for clinical phenotyping", states Dr. Johannes Kreuzer, CEO of Cosinuss°.
Great potential for telemonitoring and prevention in heart failure
In collaboration with the clinical partner CHFC, digital clinical phenotypes will be identified from the collected data and linked to established factors associated with worse prognosis in heart failure. "Vocal biomarkers have huge potential for improving patient care in heart failure since they are non-invasive, low-cost, easy to collect repetitively, and can be assessed remotely", explains Dr. Fabian Kerwagen, MPH, leader of project UNISONO at the CHFC. "Combining patient's voice with ear-worn technology will facilitate comprehensive digital phenotyping of heart failure patients and offer new opportunities for telemonitoring and prevention in heart failure".
Heart failure, which affects nearly four million people in Germany, is the number one reason for hospitalizations in this country and is associated with higher mortality than most tumor diseases.
Website: www.unisono-projekt.com
Article Metadata

Date Published: Fri, 30 Sep 2022

Author: Zana Technologies GmbH

Publisher:

Zana Technologies GmbH

https://zana.com

---