Press Release
AI-supported Digital Companion for digitization of care facilities presented to the public in big closing event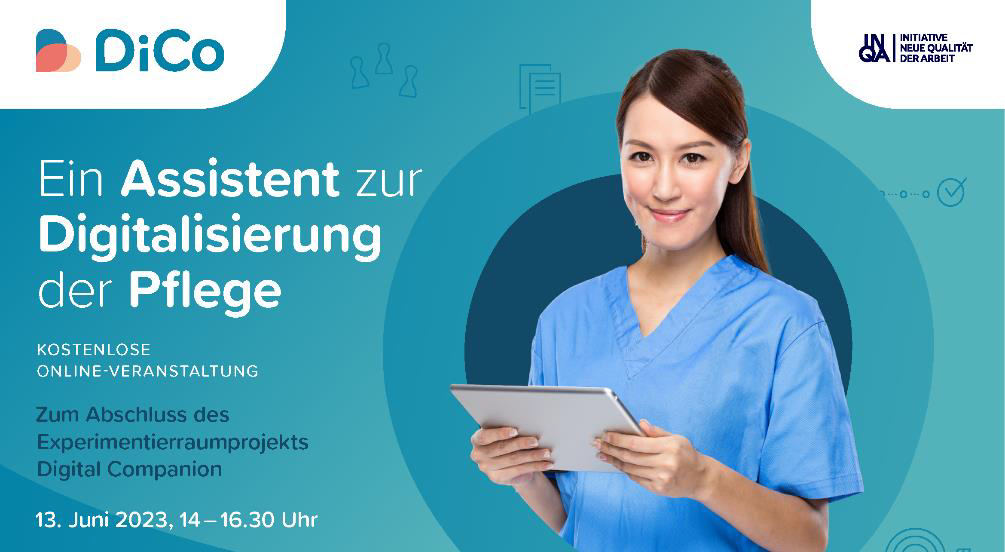 Closing event of the project "DiCo" draws interest of many participants.
The project "Digital Companion" (DiCo) is a two-year experimental space that prioritized the intensive development of a versatile and interactive tool aimed at assisting care facilities in effectively implementing the digitization process through a strategic, needs-driven, and participatory approach. The contributors to DiCo include telemedicine specialists, ergonomists, UX designers, and computer scientists, as well as diverse partners from the care sector. This collaborative effort ensured that DiCo provided practical solutions tailored to meet the specific needs of care facilities.
As one of the core technical partners, Zana Technologies offered its expertise in conversational AI and technology engineering to develop an AI-driven interactive chatbot designed to assist care personnel in analysing and identifying the digital requirements of their care facilities and finding appropriate technologies to address those needs. The chatbot supported by AI is able to assess user input in natural language that describes challenges encountered in their daily work routine, and recommends relevant technologies sourced from a manually curated database by the Centre for Telemedicine (ZTM). Furthermore, the AI technology developed by Zana helps users find specific products within the technology they selected by offering an intelligent semantic search over manufacturers' websites.
The project DiCo culminated in a virtual final event on June 13th 2023, which offered participants a comprehensive insight into the versatile functions of the DiCo assistant. In addition, representatives of care facilities presented three concrete application examples that illustrated how successful digitization projects can be implemented in practice. The event, moderated by Martin Hoffmann, garnered significant success with over 150 participants, highlighting the widespread interest in the future of digitization in healthcare. A video about the project (in German) can be found on YouTube.
Article Metadata

Date Published: Wed, 28 Jun 2023

Author: Zana Technologies GmbH

Publisher:

Zana Technologies GmbH

https://zana.com

---